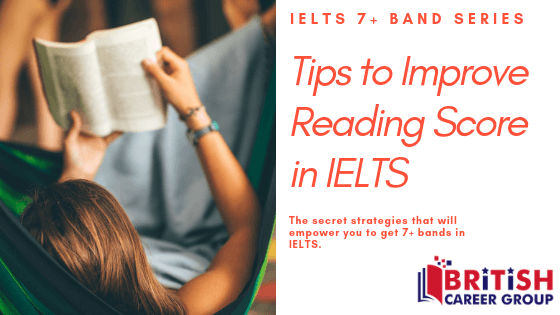 "A capacity and taste for reading gives access to whatever has already been discovered by others."
-Abraham Lincoln
The International English Language Testing System or IELTS is one of the highly recognized language proficiency tests for native English speakers willing to traveling to English speaking nations like U.K, USA, Canada, Australia and New Zealand for work or study.
The test measures four key skills – speaking, listening, reading and writing in English.
The score band is from 1 to 9 and with a score of 9, you will be considered an expert with adequate command over the language.
IELTS is quite a tough test to crack and many students have mentioned the reading test to be particularly difficult as it requires more concentration than the others. But getting a good score is quite necessary especially when organizations like Nursing and Midwifery Council in U.K have revised their IELTS requirement criteria recently.
Indians interested in working as nurses or pursuing any course in the field will need to score 6.5 in the writing test and 7.0 in each of reading, speaking and listening tests.
You may find interest: Strategies To Score Band 7+ In IELTS
So keeping in mind how important reading test is for IELTS aspirants, here are some tips to improve reading score in IELTS.
Speed Reading Skills – One of the most important tips to improve reading score in IELTS is to develop speed reading skills. You will need to go through the passage faster and locate necessary information with just one or two reads.
Scanning and Skimming – Apart from developing speed reading skills, you will also need to learn how to skim and scan the passage and get the gist quickly. You will need to get the basic content of the passage within 2 to 3 minutes and underline or mark all the important parts that will help you answer the questions that follow the passage.
Learn different types of questions – During the preparatory stages, you can learn about the different types of questions that come along with the passage to handle them better. For example, some aspirants find True/False questions trickier so developing a strategy for the same can be helpful during the final test.
Find below different types of questions asked in reading test:
Matching heading questions
True, false or not given questions
Matching paragraph information questions
Summary completion questions
Sentence completion questions
Multiple choice questions
Short answer questions
Diagram completion questions
Flowchart completion questions
Matching sentence endings
Table completion
Categorisation questions
Choosing a title
You may like to read: Selecting The Best Centre For IELTS Coaching – All That You Need to Know
Keywords – While reading the passage and skimming the entire content, you should be able to locate the keywords. These keywords will be the anchor points that will help you frame the answers for the associated questions. There are some obvious keywords like names, places, and dates, but some are subtle and require more concentration.
Vocabulary – One of the main reasons behind aspirants finding the reading test difficult can be the limited vocabulary of non-English speakers. So developing a good vocabulary is quite important to score better. You should learn new words, their meaning, and proper uses to brush up your skills.
Apart from following these tips to improve reading score in IELTS, you should brush up your basic grammar and practice rigorously until the test day. Best of luck!
British Career Group, best IELTS coaching institute in Mohali has experts who mentor students to achieve their dream by getting admission in esteemed universities in USA, UK, Canada, New Zealand, Australia. Contact us to get a Free Demo class now.